We Are..
Our company was first established 1997 in Iraq, with our head office located in the capital city, Baghdad. We opened our second branch in Dubai in 2004; since then we have grown and now have a strong presence nationwide, particularly in Basra, Najaf and Missan. We store stock in our facilities and vast warehouses in Basra, near Umm Qasr international port and Khor AI-Zubair port. Furthermore, we have a number of sales offices in strategic locations in Baghdad and Najaf. We are proud to own the largest industrial complex in Iraq in the province of Najaf, covering an area of over 90,000 square meters, where we manufacture products and equipment. Work is also under way to erect the largest factory in Baghdad, which will be used to manufacture and assemble electrical and mechanical products and equipment. Raban AI Safina Group of Companies stands as one of the most prominent industrial organizations in Iraq.
Our business activities range from Power Generation (IPP), manufacturing, LV and MV production lines, and marketing electrical equipment to oil and gas services. We also have significant presence in renewable energy, electronics, ICT and security, finance, education, construction and healthcare. Raban AI Safina group has taken expansive technological strides to emerge as one of Iraq's leading manufacturers of quality electrical products. We are one of few Iraqi Companies accredited with Quality Certificate ISO 9001-2015. We have decades of experience, working in some of the toughest environments and circumstances, which makes our accomplishments across Iraq even greater. We strive to meet national and international standards of electro-mechanical and civil engineering works, and take care to deliver projects on schedule, with maximum customer satisfaction.
Technology Partnership
Raban Al Safina General Contracting believes in the global exchange of best practice, knowledge, and manufacturing innovation. We have a technical cooperation and license agreement with Siemens to manufacture and sell Siemen branded products in Iraq.
But's that not all. Siemens trains our engineering teams in Germany as part of a knowledge-transfer agreement, resulting in the creation of the finest human engineering talent within the Middle East. Most Raban Al Safina General Contracting team members have completed rigorous training at the Siemens Power Academy in Frankfurt.
Siemens also sends staff and affiliates to RAS SG's state of art plant and installations to ensure compliance with Siemens' strict quality standards.
Raban Al.Safina year of establishment, a privately owned company with visions and expectations exceeding the par, covering various local market segments with focus on attracting International/Regional/Local investments and expertise, reviving the Industrial private sector, trading and procurement
Our first signed contract with the Ministry of Health-Iraq to install, operate and maintain A/C Systems within (16 hospitals) over different provinces, affiliated with a Malaysian specialized company in this field
2000
Singing of several contracts with a public sector company (subsidiary of Industry and Mineral Ministry – Republic of Iraq), contract involved supply of various TV sets (semi-manufactured, SKD), this contract was executed with collaboration and cooperation with the  public sector company, contracts exceeded 10,000 TV sets assembly
2001-2002
Continue cooperation, and collaboration in the field of joint-manufacturing business with a public sector specialized company affiliated with Ministry of Industry and Minerals, the main focus was on manufacturing and assembly for a vast set of electrical devices, equipment's that serves various government companies working with Ministry of Industry and Mineral of Iraq  
Rehabilitation of a huge maintenance workshop inside the green-zone, Iraq – Baghdad.

Execution of several gas pumping stations, client : Iraq's Rehabilitation Bureau.
Najaf Factory commenced manufacturing various Electrical equipment(s) that serves the electricity distribution grid.

Rehabilitation of different buildings, and the main Library within Baghdad University

Design, construct, procure, and operate an R/O system (water purification and sweetening system) for 19 hospitals distributed over different governances of Iraq.
Design, procure, execute and operate a full camp for the Southern Oil Government company  (affiliate of Ministry of oil-Iraq) that accommodates 300-400 person within a remarkable dead-line .

Executing a major contract with Iraq's Rehabilitation Bureau supplying different Electrical equipment, according to this contract supply of, different ( Power Towers, Power Transfer Grid, different capacity transformers and cables) from different sources and countries of optimum quality according to International and Iraqi standard within Ministry of Electricity
Design, supply and execution of 5 Central different capacity Concrete-mixtures within Mosul dam in favor of Ministry of water resources-Iraq.

Multi-million USD maintenance for heavy equipment's operating within Basrah water canal project and within other projects, all were delivered and accomplished according to specifications and set deadlines.

Supply of different pumps and mechanical equipments

Supply of different sanitary equipment

Our Company started specializing and focusing on Electric and Electronic industry, commencing business with Schnizer company for assembling, and manufacturing of Compact Sub-Stations (KIOSK)
This year witnessed the establishment of Raban Al.Safina for Construction and oil services as one of Raban Al Safina Group, focusing more on reconstruction and rehabilitation efforts of Iraq, Raban Al Safina company has been elected as the back-up supporting company for all logistics in execution of Oil Wells rehabilitation project in west Qurna, and north Ruemla, through contractually joining Weatherford co. (US company) all executed south of Iraq.

Maintatnace and rehabilitation of several oil wells in west  Qurna, and north Rumela with a total of 80 wells.

The Group has relied on qualified Iraqi engineers, technicians, also recruiting labor and personnel from areas surrounding each of our projects, this added with the Group's specialized drilling equipments, machinery combined with the consultation of our Advising team enabled our company to set the best designs and consultations.
Signing the agreement with Siemens AG, taking our company as their sole private partner in Iraq liscened to assemble, manufacture low & medium voltage sub-stations as Siemens products in Iraq

Manufacturing of different Electric equipment ( transformers, generators, Sun-power generated lightning) for the governance of Diwaniyah.

executing of hundred's of contracts within a (long term 15 years partnership) with an affiliate arm of the Ministry of Industry and Minierals

construct, execute and operate a 11/33 KV GIS sub-station, client : General

Secretariat of Imam Hussein Holy shrine.

Executing various contracts in cooperation with an affiliate arm of the Ministry of Industry and Minerals (under a 3 year partnership contract)

Execution and construction of Halfayia Reservoir, storage capacity of 5 million barrels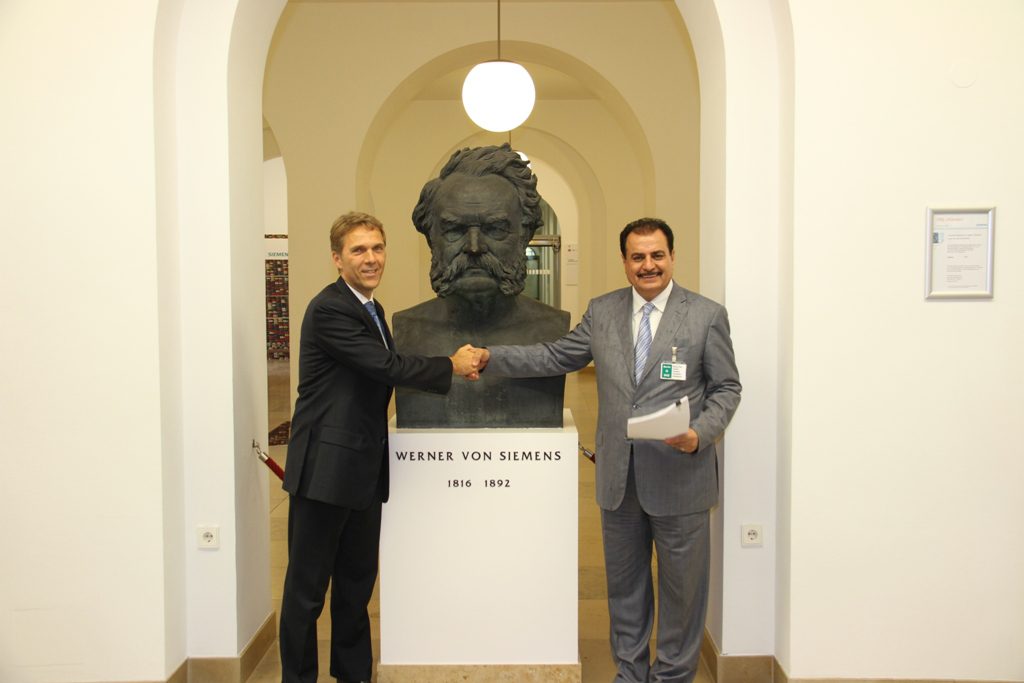 Signing a 3 year supply contract with the General Directorate for Karkh district Electricity distribution company (Kiosk, electronic metering, sub-stations) supply
supply , execute and operate 18 generating units with sub-stations units and axillary units at Halfaya reservoir in Maissan-Iraq, client Petro-China and Maissan oil company (government of Iraq)

execute various contracts in favor of official government companies (ministry of electricity, ministry of oil) supply of Grid interconnection and transmission units

Maisan Power company (an affiliate) of RAS Group a power purachase and execution contract with the ministry of electricity for a combined cycle station (750 MW) operating on natural gas from Misan Oil field

Currently in the process of negotiation for constructions of Holy Najjaf Oil resivoir as a storage resivoir for oil quanittes pumped from fields south of Iraq, operational capacirty (73000 m3) consisting of 11 tanks of 900 thousand daily barraels daily  production capacity for export to through Aqaba port in Hashimite Kingdom of Jordan

Also during 2017, RAS started a partnership with Pentol company German company to introduce their technology and equipment to Iraq, this technology was used in Unit number 6 of the thermal station in Dura – Baghdad under full supervision of ministry of electricity, all results showed higher efficiency in stations efficiency and productivity with less stoppage and less maintenance lowering the eco footprint and pollution .   
Amara Power Company signs contract with Ministry of Electricity to convert existing Single-Cycle Amara Gas Turbine Power Plant (125 x 4MW) to a Combined-Cycle Power Plant, with an additional 250MW green energy.